Is traveling even ethical anymore?
Bok bok from Stari Grad, a town on the Croatian island of Hvar that was founded in 384 B.C. and has a year-round population of fewer than 2,000. This month has been extremely relaxing, as you might guess, filled with walks and swims and writing.
One of my besties came down for her 33rd birthday — and it is amazing how different birthday celebrations in your 30s are from birthday celebrations in your 20s. We remembered everything! And weren't too hungover for a bike ride the next day!
Even weirder, it was actually really nice. Maybe that's the difference between your 20s, late 20s, and 30s: In your late 20s, you're still wondering if you're missing out on all the things you did in your 20s — and in your 30s, you know you're not?
As for Crete, it was lovely: snowy mountains, sandy beaches, olive groves for miles. Cretan people, who are incredibly hospitable, are also the envy of every wannabe millennial homesteader (cough, me). At one memorable breakfast, every single thing on the table was made/grown/produced by our hosts: from the eggs to the bread, jam, cheese, yogurt, and HONEY. It was unreal.
Next up? A road trip through northern Croatia and Slovenia. Then, Sicily for a month!
Eye + ear candy of the month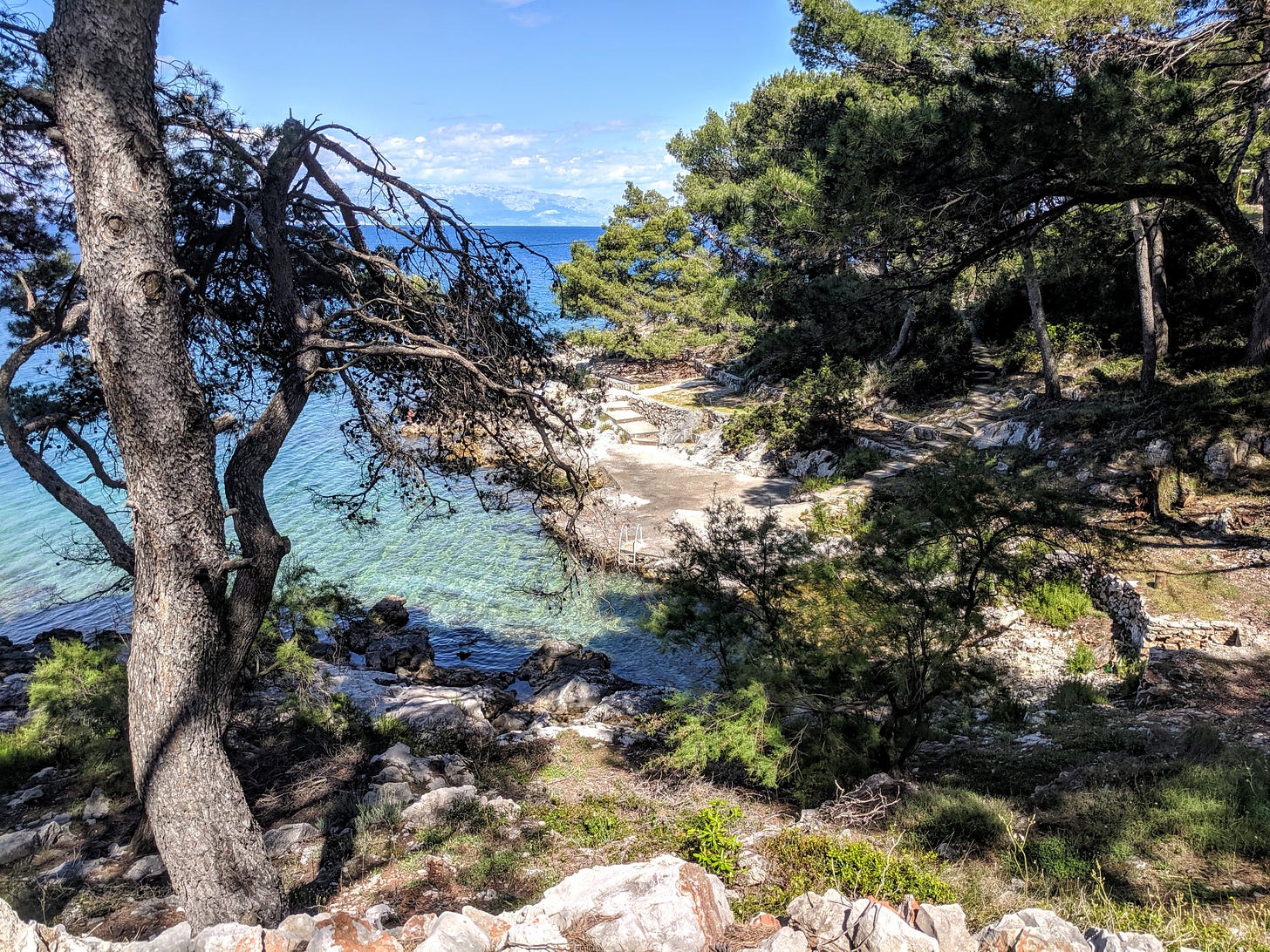 One of the many gorgeous hideaways you'll find on Hvar. (Just don't go expecting any sand!)
This summery song has been following us around our entire trip, from Argentina to Spain to even Croatia. Pack your beach bag, and go.   
On the blog
Is traveling even ethical anymore?
While climate change has long been in the back of my mind, I am embarrassed to admit that's where it's been: in the back of my mind. But clearly, with fire after disaster after flood, report after buried report after report, it can no longer stay there.
What's even more embarrassing is that this realization has arrived in the midst of a yearlong trip around the world. Which, as it turns out, is completely antithetical to caring about climate change. (On a 2,500-mile flight, one passenger's share of emissions melts 32 square feet of Arctic summer sea ice cover.)
Here's my blog post on the topic — would love to hear your thoughts, and whether this is something you're struggling with, too.
What I wrote this month
When Your Final Exam Is Surviving the Wilderness ~ The Atlantic
Yippee! I'm pumped to be in The Atlantic with a story so close to my heart.
It's basically been in the making since 2010, the summer I first set foot in a place that would forever captivate me: Ketchikan, Alaska. When locals casually told me that every eighth grader has to survive on a deserted island for two days before they go to high school, my jaw dropped.
So last year, I packed my XtraTufs, boated out to Back Island with a bunch of tweens, and had a blast. I pitched the story to six outlets; while I got some interest, and even one offer, the outlet wanted me to tell the story in a different way than I'd envisioned. So I made the tough call to turn down the assignment, and let my pitch simmer for months before trying The Atlantic (lucky number seven) in January.
Though I probably earned less than minimum wage if you calculate the hours I put into reporting, writing, and editing this baby, the process made my soul sing. I want to do more stories like this in the months and years to come.  
What I'm reading / watching / listening
Now go enjoy spring
"After you have exhausted what there is in business, politics, conviviality, love, and so on — have found that none of these finally satisfy, or permanently wear — what remains? Nature remains; to bring out from their torpid recesses, the affinities of a man or woman with the open air, the trees, fields, the changes of seasons — the sun by day and the stars of heaven by night." ~ Walt Whitman
xoxo
Susan
PS. If you liked this, consider forwarding it to a friend? Or, at the very least, clicking the little heart below?