If my grief were a goldfish
And greetings from Japan
こんにちは from Japan!
Did you know the Japanese language has three different alphabets, and that you need to recognize more than 2,000 characters before you're considered literate? On a walking tour the other day, our guide told us that people generally can't read a newspaper until they're in high school. I have never felt so grateful for our 26 little letters.
We've been in Osaka, the country's second largest city, for a month. It's known as the foodie capital of Japan, where residents love to say you'll suffer from kuidaore: eating yourself bankrupt. Despite that expectation, the food has been surprisingly affordable (cheaper than most American cities) — and we've eaten an obscene amount of it.
Tomorrow, we'll head out for a week of travel around the country. We'll visit Takayama, a traditional town in the mountains; Tokyo, a metropolis you may have heard of; and Okayama, to see where my grandfather lived before setting sail for San Francisco 99 years ago. (The house is gone; the rice paddy remains.)
Being half-Japanese, it's odd to live in a place that is both so much a part of me and also so foreign. Spending time here has reminded me that I might be Japanese in blood and tradition, but at the core, I'm really just American.
While I'm not super proud to say that these days, it's the truth. And I've found myself actually looking forward to returning next year — to a place I understand, even when it makes no sense; to a place that is mine, even when it's hard to admit.
But first, three more months of this Peter Pan life: in Bali, Thailand, and India (!!!).
Eye + ear candy of the month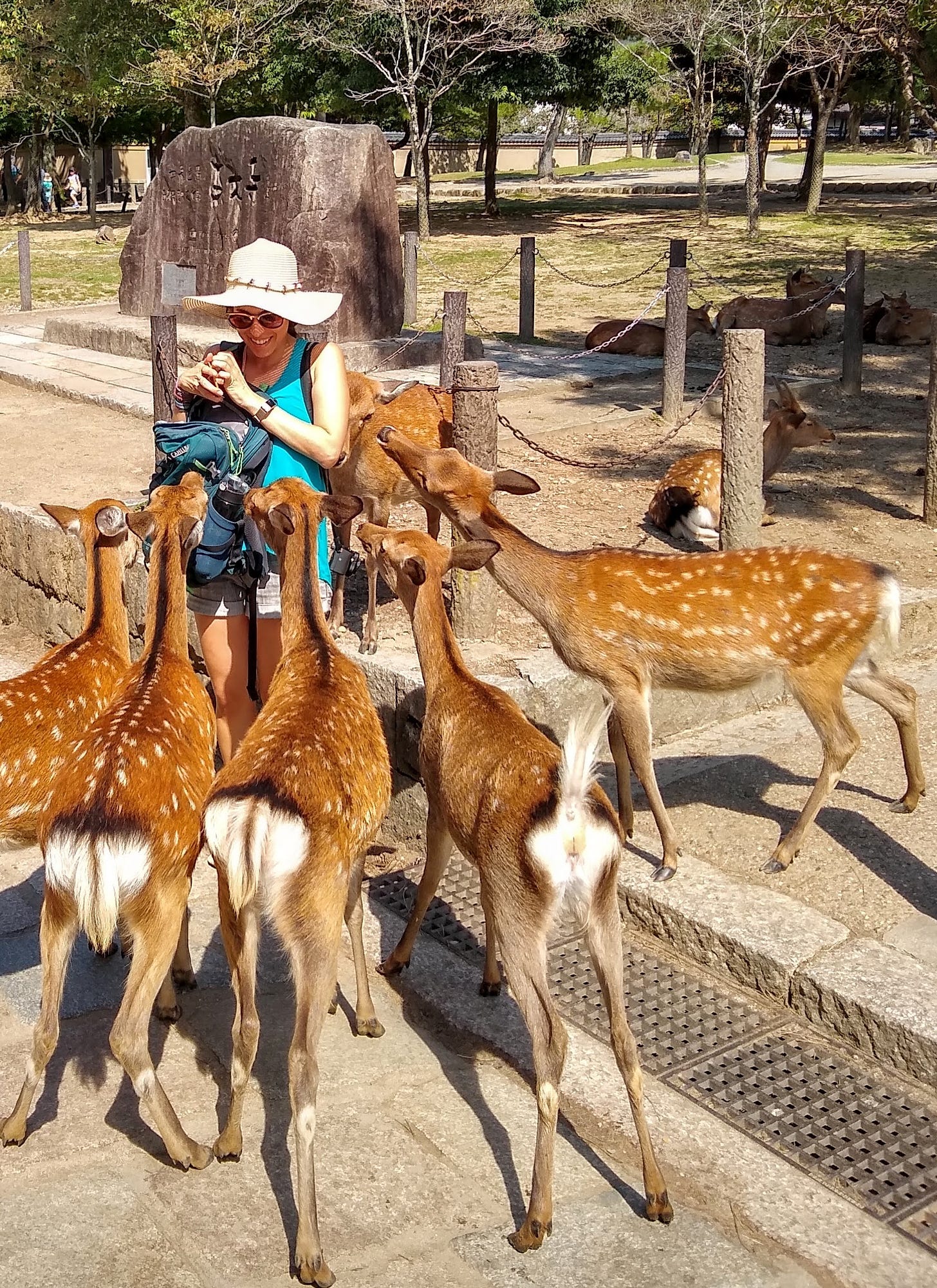 A recent visit to Nara, Japans's ancient capital, where the deer roam freely (and literally bow to you when they want crackers). Growing up in CNY, I'm not normally a fan of deer — but these ones won me over in about six seconds flat.
What better to sit around and drink PSLs to than Leon Bridges? (Well, for me, it's simply dreaming of PSLs, as I haven't found them in Japan yet.) This combo with another one of my fave bands, ODESZA, is exactly what I want to listen to this fall.
On the blog
The lines of this blog post came to me in the shower, on walks, and while lying in bed entering the vortex that is loss. By the time I got to the computer, my fingers started moving on their own: a direct line between my heart and the screen.
It's a short contemplation on grief: how it changes, how it never goes away. And how the hardest part is the life that someone never got to lead.
What I wrote this month
As I said in a previous newsletter, I've been itching to write more about climate change. Although the current administration may command more news attention right now, this is the story whose echoes will remain long after it's (we're) gone.
So I'm pumped to say I was able to write a few "service journalism" (ie: helpful) pieces about climate change for one of my favorite newsletters: the NYT's Climate: Fwd. It has a wonderful series called "One Thing You Can Do" that attempts to distill the overwhelmingness of climate change into one action item per week.
Here's what I've written so far:
Make Your Donations Count: to combat climate change, is it more effective to buy offsets? Or donate to politicians and environmental orgs?

Go Solar, Get a Tax Break: how to snag the 30% tax credit for installing solar panels (which is slated to end this year!)

Try Community Solar: if, like most Americans, you can't install solar panels, you can look for a community solar project in your area
Do you have any ideas for this series? Or questions I could answer? Send 'em my way!
What I'm reading / watching / listening
xoxo
Susan
PS. If you liked this, consider forwarding it to a friend? Or, at the very least, clicking the little heart below?